Techie Tuedsay: Apple - iMac G5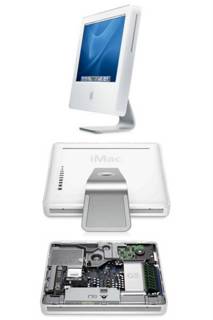 Portable Video Editing!?!

Just anounced today at the Paris Apple Expo is the sleek
iMac G5
or as one commenter over at
Engadget
said, "It's a laptop on a stick."
For quite awhile I have desired a Mac for video editing. I wanted a highly portable solution but the laptops seemed too expensive, costly to service, or upgrade.
For $1,499 the new
17 inch iMac G5 1.8GHz system
comes with these specs:
17-inch widescreen LCD
-1.8GHz PowerPC G5
-512K L2 cache
-600MHz frontside bus
-256MB DDR400 SDRAM
-NVIDIA GeForce FX 5200 Ultra
-64MB DDR video memory
-80GB Serial ATA hard drive
-Slot-load SuperDrive
More than enough for my DV needs at the moment. Oh by the way, did I mentioned my birthday is coming soon? On September 11th, to be exact...