More Techie Tuesday: Satisfaction and scare the dog...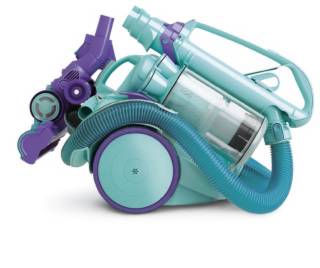 Segway meet Fluffer...

Now I like to vacuum, yet this looks like a sex toy to me. Well clean sex an all, but this is great design (I am not really all that weird) and it seems to be marketed to a certain segment of society:
It packs away into half the storage space of many other cylinder vacuums. In place of long and cumbersome appendages, it has a telescopic wandthat extends to three times its length when in use. When collapsed, the wand clips onto the top of the machine and doubles as a handle so you can carry it easily. The hose clips neatly around the body. We managed to fit the DC11 into a standard, 60cm kitchen base cupboard. Dyson's designers have assumed that people who are short of storage space must live in small houses...
This is good news for the 18 million adults who will develop allergies at some time in their lives. Vacuum cleaners can blow out, or blow away, the dust they are supposed to be removing... The filter does not need replacing but has to be washed every six months. Secondly, controls on the vacuum head switch the rotating brush on and off. On carpet, the brush can be turned on so it agitates the surface and picks up a lot more dirt. On hard floors, turning the brush off stops dust being blown away before the head has a chance to suck it up...
We tested the DC11 on both carpet and hard floors. Our findings matched those of the Good Housekeeping Institute which rated this machine better than any other cylinder vacuum it tested.It did an excellent job although we had to use one of the accessory tools to clean right up to where the carpet meets the wall. A trigger on the handle reduces suction, which we used to vacuum curtains and for cleaning around the edges of rugs and furniture. We sucked up lots of coins and bottle tops but none went beyond the head and all were easy to dislodge. The wheels on the head worked better than trolley wheels when it came to guiding it where we wanted it to go. The wheels also took some of the muscle out of vacuuming. The machine is not designed to sit on stairs as most cylinders are but with a 300cm long hose and wand, we could vacuum most of our flight of stairs with the machine sitting at the bottom.
(Via
engadget<
Gizmo Girl
)